Personalized Birthday Books
Why is a personalized book the best birthday present?
How can you surprise a child for their birthday and make them happy?? The answer is simple, with a personalized birthday book for your child. In our books, we use educational methods that a child applies with a personalized story to their daily life. Your kid becomes the protagonist of the plot, and together with their relatives and friends, they progress through social and psychological problems relevant to their age. In a light engaging story, your child will develop habits crucial for life: kindness, compassion, care for others, and an ability to triumph over any difficulties. The main character of the book closely resembles your child, having the same eye and hair color, their name, and now all is ready for a full transformation and dive into a marvelous story. Embark onto a discovery of hidden treasures, visit the depths of the ocean, fly on an air balloon, and travel around the world. Without a doubt, the book gives unforgettable memories which will remain with you over many years. As such, a book is the perfect birthday gift. Combine practicality with fun: help your child through their first steps in the world of reading while going through wonderful adventures.
We welcome you to Lionstory.com. In our assortment, we have books, which will be a great present. In Lionstroy, our experience in the field has allowed us to produce a list of the top-recommended reads for your little ones. Recommended and acclaimed by parent customers, check out our selection for yourself. You will find birthday picture books for parents and general best birthday stories for the little ones and other books about birthdays. Additionally, we offer stories on different themes. For example, travel tales, where kids embark on a journey with the books' heroes and open for themselves the mysteries of our planet. They become small geographers, zoologists, and historians as they progress through the pages. Christmas stories in which the whole family meets Santa Claus and the inhabitants of his magical realm. Books about friendships, which is an essential skill to be learned in childhood. Birthday books for toddlers will aid the little ones in developing their speech and imagination, mastering shapes and colors. From an early age, help them to build correct communication skills, converse, develop and gain knowledge. Remember that you take part in the creation of the book, and choose the design details according to your taste. You can choose the color of the skin, eyes, and hair as well as customize their hairstyle and name.
$ 34,90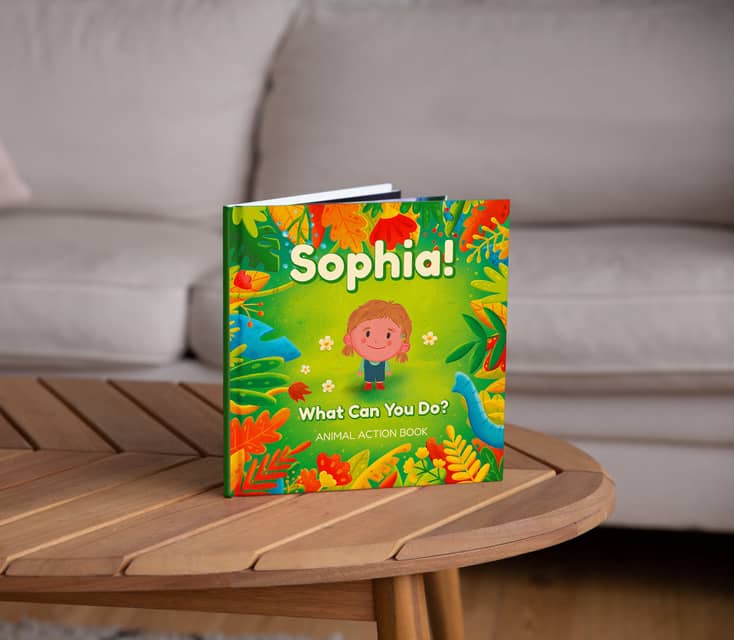 It's common for parents to monthly celebrate their baby's birth day until they turn 1 year old. The first birthday of your child is a special day, which many parents celebrate more than any other days. This is an important event for you and your kid. An event so remarkable deserves an equally perfect gift such as special books with child's name for first birthday. They are bright, have beautiful large illustrations chosen according to their age and a relevant amount of text. In this personalized keepsake, you will find the most important events of your baby's first year of life, from their birth into the world until their first birthday celebration. It will aid the little one to see themselves through the different moments of their development, as well to understand how they grew and matured. You will get the most touching, one-of-a-kind book of memories with vibrant illustrations about their first year of life. All of it will be collected inside the book for your 1-year old's birthday. It's a personalized infant tale that you can re-read together with your child in the future.
$ 34,90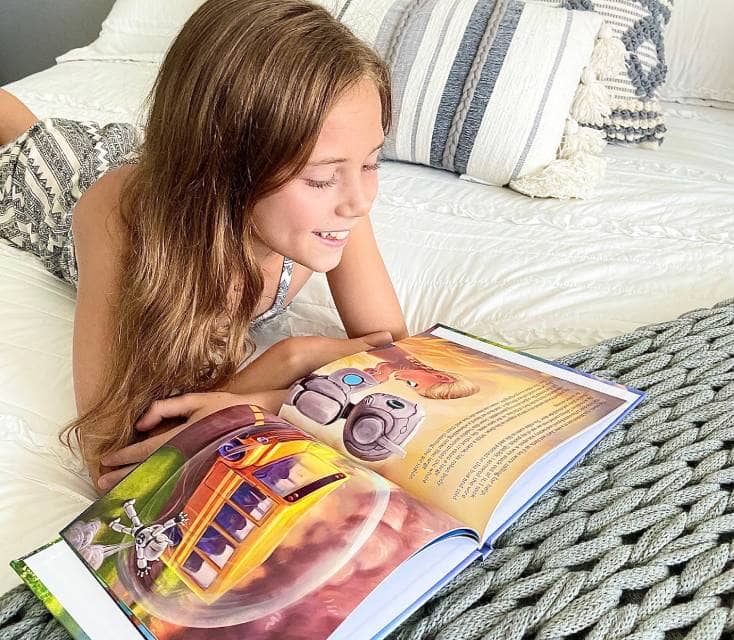 On our website, you will find books for the most playful, active, curious, and inventive boys. A kid before the age of 3 is more of a listener rather than an active reader. They learn to perceive stories by ear, recognize images, colors and shapes. It's paramount to foster the love for books as they develop imagination and memory. As the boys grow up, their tastes, interests, and genres in books tend to change. Boys in the age of 3 to 5 like books about different types of transport; cars, trains, planes and many more. Attracted by the secrets of the sea, boats, dynamic adventures and breath-taking journeys populate their childlike imaginations. Boys in the age group of 9 to 11 are keen on publications about dinosaurs, the cosmos, and the mysteries of unknown planets. In this period they start to form their identity, as a consequence of altering their outlook, thinking, and psyche. As so, it is key to choose books that foster learning and analytical thinking. In this age gap parents have the ability to embed the love of reading, endearing them to friendly characters who face challenges and solve them throughout the narrative. No matter the genre, an alluring plot will always garner attention from a child who is still a novice in the world of literature. Upon congratulating children on their birthday, offer them a personalized birthday book for kids as a gift. Such tales stimulate the interest of the child in starting reading the book, as the child themselves becomes the protagonist in the narrative and best friend of other fictional characters from the plot. Personalized birthday books for boys are easily read and will be intriguing even for those kids who don't normally enjoy reading. Literature is a great gift for your child and an additional opportunity for them to develop into a well-rounded individual.
$ 34,90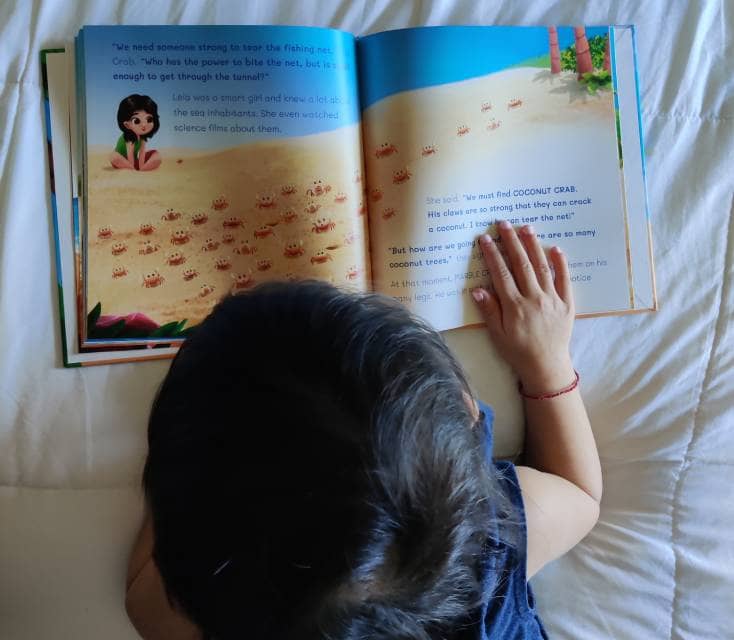 Which book should you buy for girls aged from 0 to 3 years old? Want to save memories of the dearest moments with your daughter? Baby book for girls might be just for your! The best baby book for a girl is the one which will conserve on its pages all the important and interesting moments from the life of your baby. The day and time on which she came to light, her weight, height, and the names of Mom and Dad. You can write your girl a letter to the future to save with the baby book the memories of her childhood.
From the age of 3, you can gift personalized birthday books for girls. At this age, they like restless and rebellious heroes which constantly find themselves in difficult situations, which, fortunately, always end well. They are fascinated with book series about magical worlds inhabited by princesses and unicorns, floral fairies, and kind sorceresses. They love tales where their beloved toys are lively and real. Older girls enjoy stories about friendship and adventures (including in fictional worlds), books with captivating stories about magic and miracles.Girls enjoy reading books about friendships, science, and adventures.They, just like boys, are interested in overcoming obstacles in creative ways, and being courageous and braver.
Coloring books help children to develop their creative abilities. It is an interesting and useful pastime. The coloring of images broadens their knowledge about the world surrounding them, interactions with colors and shapes, and helps improve their writing and drawing techniques. Coloring books also advance fine motor skills and help prepare the hand for writing. Working with colored pencils and paints, the child develops color perception and gains experience with understanding perspectives. Colouring books will help the kid to shorten the span of their strokes during drawing. Colouring books for kids support their interest in drawing and individual creativity. For the little ones, there are specialized coloring books where you draw with your fingers. In such coloring books, the drawings are simple and comprehensive. When they are 3 to 4 years old, children draw better. They comfortably draw with pencils and paints, specifically coloring within the drawing outlines and contours rather than everywhere. Personalized coloring books will be created specifically for a child. Give color to their favorite characters, beloved house pets, or the superhero they will one day surely become. Any desire of theirs can be easily printed onto the pages and shaped accordingly to the design your child wants. Foster their imagination in the best way possible! Coloring pages where they and their family appears is twice as interesting and captivating. Drawing together with your child helps to strengthen your bond and make the child feel more appreciated.
You may also like...