We get it — the very first birthday is so exciting and overwhelming at the same time. You want to make it perfect but also not overdo it, because let's face it—the kid probably won't remember any of this. A baby's first birthday is also a time when family and friends reunite to see how much they've grown, how cute they are, and celebrate a new member of the family. Even though birthday preparations can take days, selecting a gift can be even more tiring. What do you give to a one-year-old little human?
It's indeed a difficult question to answer. And if you're reading this article, your question has guided you to us (welcome!). At this age, this tiny little baby doesn't really appreciate a gift for very long or develop any underlying connections. They simply love it, play with it, and learn from it — that's all they need! So, if you're struggling with what to give for a baby's first birthday, we've got you covered with the following list of perfect gifts! By the way, we've also selected sustainable gifts for one-year-old babies so that both the child's happiness and eco-friendliness may be addressed.
For each gift, we've mentioned the best features, materials, and skills it's useful for along with the price. Let's take a look!
Disclosure: The products noted in this list are not sponsored or affiliated and have been selected entirely by our blog writer.
Lion Lovey

We don't need to tell you how much babies love plushies. This Lion Lovey is fair-trade, GOTS certified, handmade, and very cute. Babies often develop early relationships with character toys like dolls and plushies. They take them everywhere, especially to bed! This is why giving them one that is also environmentally friendly is an amazing idea!
Great for: imagination, creativity skills, emotional and social skills
Materials: 100% Organic Egyptian Cotton fabric and 100% cotton fill
Price: $19.99
Features: fair-trade, handmade, GOTS and USDA Certified Organic Cotton, soft terry feel for teething, 8 in.
Sophie La Girafe Train
This Sophie La Girafe Train will keep your baby busy! It's a wooden train with pastel colors that helps develop imagination and explore shapes. This is perfect for motor skills! This toy can be your baby's first construction and also a fun game for learning colors. The perfect present for baby's first birthday.
Great for: imagination, creativity, motor skills
Materials: wood
Price: $27.50
Veggie Crate Plush Dolls Set
Who hasn't had some sort of veggie toys as a kid? This veggie crate plush doll set is adorable. You can use these to teach your child to be healthy and start eating veggies, and tidy up by always bringing them back to the crate. They are fair trade, handmade with 100% organic Egyptian cotton, and very aesthetic!
Great for: teething, motor skills, imagination
Materials: 100% Organic Egyptian Cotton fabric, 100% organic cotton fill
Price: $43.99
Features: handmade by women in Egypt, GOTS and USDA Certified Organic Cotton, created on Fairtrade Certified Farm
The Organic Cotton Play Tunnel

Play tunnels are fun! This organic cotton play tunnel is definitely a nice toy for a one-year-old baby. They can play hide-and-seek, crawl through it, explore the texture, and play with it in so many ways! Kids begin using their imagination while playing at this early age. So, giving something that can include so many play scenarios is perfect. And if you're hosting a one-year birthday party, your child's friends can all play together with this toy. Keep 'em busy and make it fun!
Great for: motor skills, strength, coordination skills
Materials: organic cotton
Price: $50
Features: easy to collapse and take with you, baby-safe materials, 18.5 inches diameter, expanded length 47.2 inches
New Sprouts® Grow it!
If you don't have a garden but want to introduce gardening to your child — New Sprouts® is a great choice. Let your baby learn to plant and grow flowers and veggies! You can encourage role play and develop new vocabulary words, such as "grow," "plant," "flower," and "nature." We always encourage toys and activities that nurture care for nature. This is why we love it!
Great for: motor skills, imagination, vocabulary enrichment
Materials: plastic
Price: $24.99
Pepe Pull Along
Does your baby like animals or are you considering buying or adopting one in the future? If yes, then try getting the Pepe Pull Along first! Made with FSC certified maple wood, this pull-along puppy will encourage movement during playtime and contribute to the development of creative skills. Infants tend to sit and play in one spot, making movements very limited. This toy, however, does the opposite. It inspires babies to crawl or walk around and care for animals. Isn't it amazing?
Great for: movement, imagination, creativity skills
Materials: FSC maple wood, FSC & CARB plywood, rubber (tail), TPE (wheels)
Price: $23.99 at Walmart
Features: 0.31 kg, FSC certified wood
Grimm's Wooden Rainbow Tunnel
When we first saw this wooden rainbow tunnel, we thought it was quite basic. But when we saw what could be built with it and how it can be played with, we were amazed! In addition, Grimm's Wooden Rainbow Tunnel is hand carved from a single piece of wood in Europe. This isn't only a puzzle of pieces to be placed in order, but also a way to create countless shapes and figures! This will definitely encourage imagination and motor skills. This gift can also be combined with other toys. For example, it could easily become a small bridge or even a set of bridges in a town made from other toys, an arc, a tunnel, a fence, or anything your child might limagine it to be!
Great for: motor skills, imagination, creativity
Materials: sustainable lime wood, finished with non-toxic, water-based stains and food-grade vegetable oil
Price: $38
Features: 5.5 x 3.5 x 2.25 inches when stacked, made in Europe, no paint or lacquer, minimal packaging
Wooden Touch and Feel Puzzle Peek-a-Boo Pets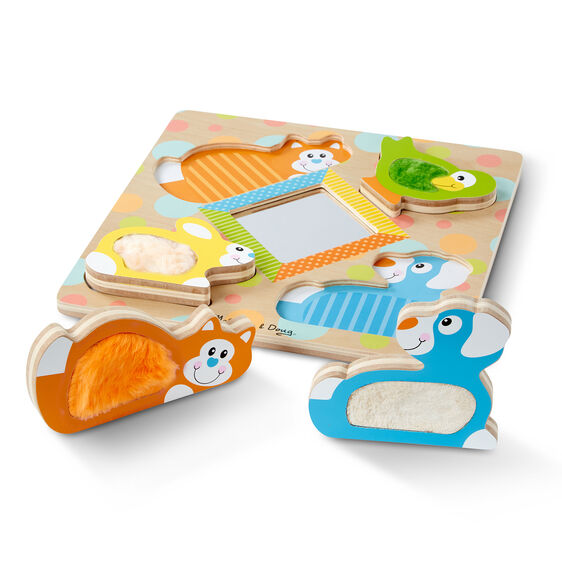 This gift is all about textures — feeling the animal fur (faux) in contrast to the wooden board is quite an interesting experience for a baby! A child can learn new vocabulary words based on sensory perceptions and discover colors and patterns while also developing motor skills! This Touch and Feel puzzle will also boost your baby's imagination while they're playing with the colorful animals. One interesting feature of this toy is the mirror! A child-safe mirror is placed in the middle so that your baby can discover their appearance which is crucial at this age. They'll be able to observe their emotions, movements, and how they look when they speak.
Great for: motor skills, imagination, vocabulary enrichment, emotional skills
Materials: wood, unknown fake fur
Price: $12.99
Features: 10.25 x 1 x 10.25 in., packaged
Uncle Goose building blocks
These Uncle Goose building blocks are a wonderful gift designed to grow with your baby and last for generations. The sides of the blocks feature four full alphabets, numbers, mathematical shapes, as well as several hand-crafted animals. These are a beautiful addition to any nursery and provide little ones with endless fun. Teach your child how to build, count, and spell with these blocks as they grow into toddlers that are ready and eager to learn.
Great for: m

otor skills, building vocabulary, creativity

Materials:

Sustainable basswood

Price:

$40

Features:

28 1.75in cubes, printed with non-toxic mouth-safe inks, made in the USA
---
Nowadays, the selection is broad! We've selected sustainable and educational toys for a one-year-old that will be the perfect present for a baby's first birthday.