Are you looking for a gift for someone who has twins? Or are you that someone? We've made a list of the best gifts for twins for all occasions because raising twins probably won't give you much time to try to find and buy those gifts. Also, what do you give to twins? Should you give two identical gifts, or do they need to be different? What if one likes what the other has; should you give one gift for them to share? Well, these are completely logical questions to ask and there are no right or wrong answers. You can give one shared, two equal, or two different gifts for twins. This is why our list of unique gifts for twins is diverse enough to address those concerns and allow a choice that is completely up to you.
Also, don't forget about their ages! Gifts for twins' first birthday would be different from a gift for five-year-old twins, as, at a very early age, babies wouldn't receive them in the same manner. Don't worry, we also note the intended age and price range throughout the entire list. Shall we dive into it?
Disclosure: The products noted in this list are not sponsored or affiliated and have been selected entirely by our blog writer. All the prices are indicated at the moment of publishing an article, and may change. 
---
One gift for both
This is the perfect option if you are on a budget or simply don't want to spend time finding separate gifts. Moreover, giving a gift for them to share will teach twins to play together. In light of that, the gift should be shareable or consist of two components to prevent any arguments about whose toy it is and who will play it at any given moment.
Connect 4 Game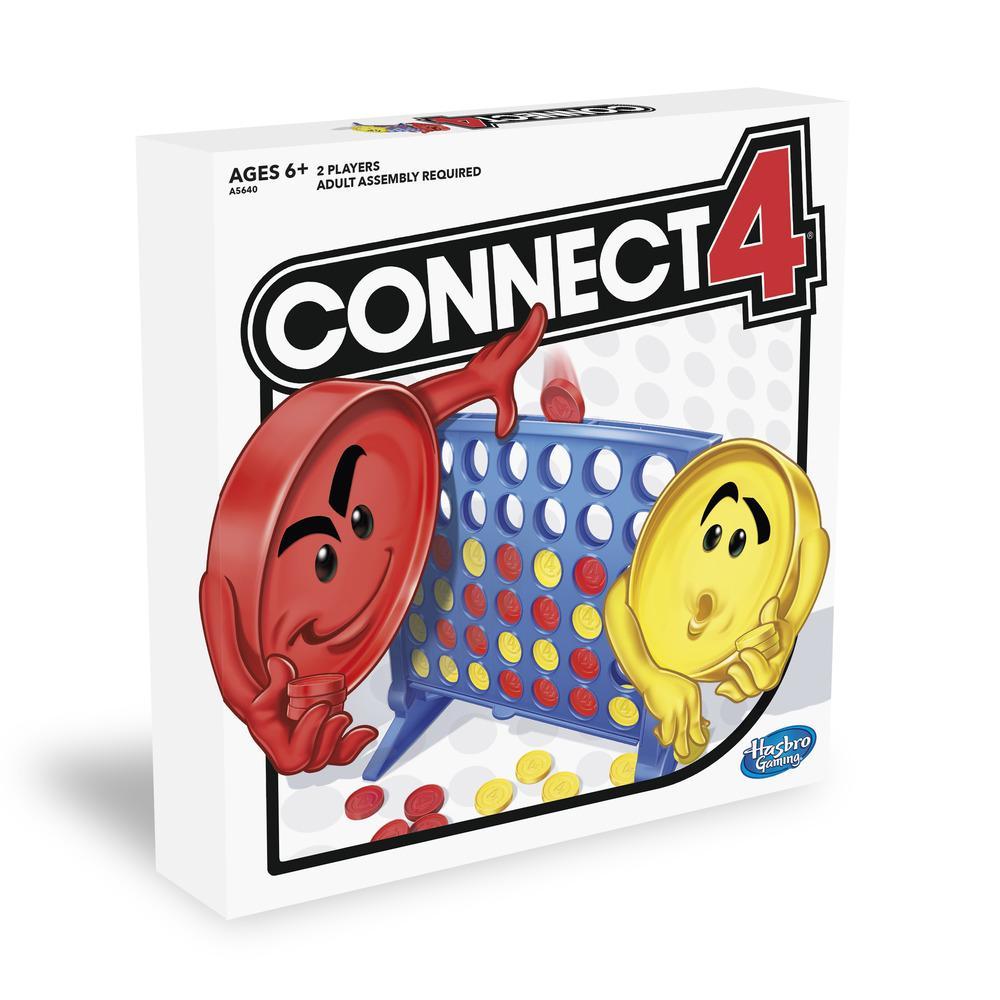 We genuinely think table games are a win-win gift for your budget, time, and the twins' enjoyment. Table games are already designed to share (you can't play alone, right?), so they won't have any arguments, such as: "It's mine!" or "no, it's mine!" This gift is very budget-friendly for two players so that they can play together. This is also great for developing motor skills and strategic thinking.
Age: 6+
Price: $9.99
Features: for two players, develops strategic thinking
Baby Twins in Box
What we really like about this one is the design – doesn't it look so special and cozy? This one can definitely be considered one of many unique gifts for twins. This present tells a story about the mouse twins, just like the twins receiving the gift! It boosts imagination, as children can create an endless amount of stories with them. Also, children develop early relationships with plushies, as they take them to bed, on car trips, and anywhere possible (every parent fears the day it could be lost). These are also perfect for developing social and emotional skills. And yes, one gift is for both twins!
Age: older than 3
Price: $30
Features: 4.5 x 3.2 x 2 in. box, cotton bedding, cotton mice with polyester filling
Easy PlayHouse Customizable Barn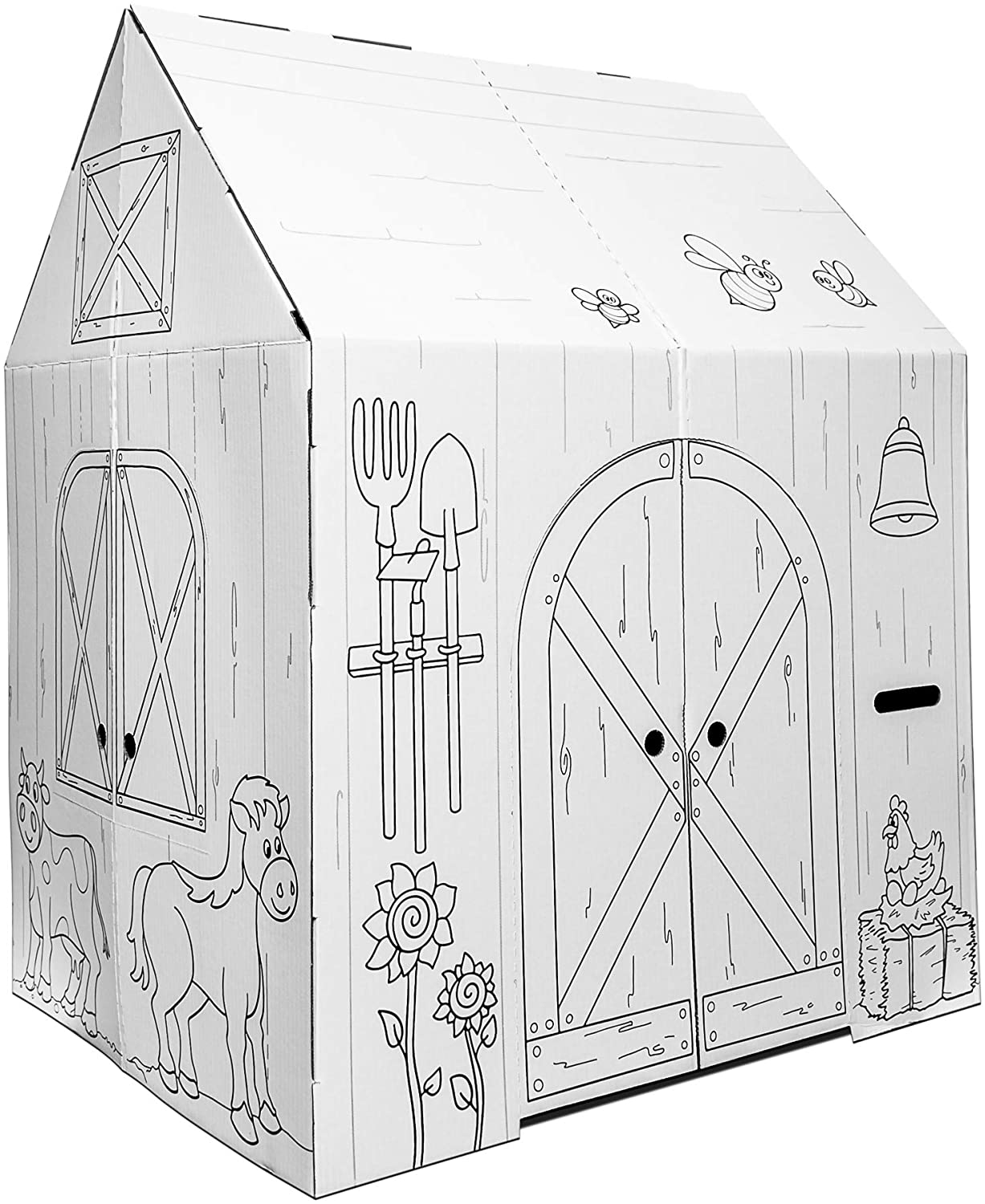 Some kids paint everywhere except on paper — this gift is for them! Honestly, this activity seems like so much fun — coloring their own little house the way they want is an amazing way to keep children busy. So many variations of houses are available, so it's the perfect gift for twin boys and girls. It helps to develop imagination and creativity as the twins will have complete control over how they color. We also recommend buying paint if you don't already have some, because drawing with pencils can be tiring and takes forever.
Age: 2+
Price: $35
Features:  32 x 26.5 x 40.5 inches – over 3 feet tall, doors and windows that open, cardboard, made in the USA
Cotton Teepee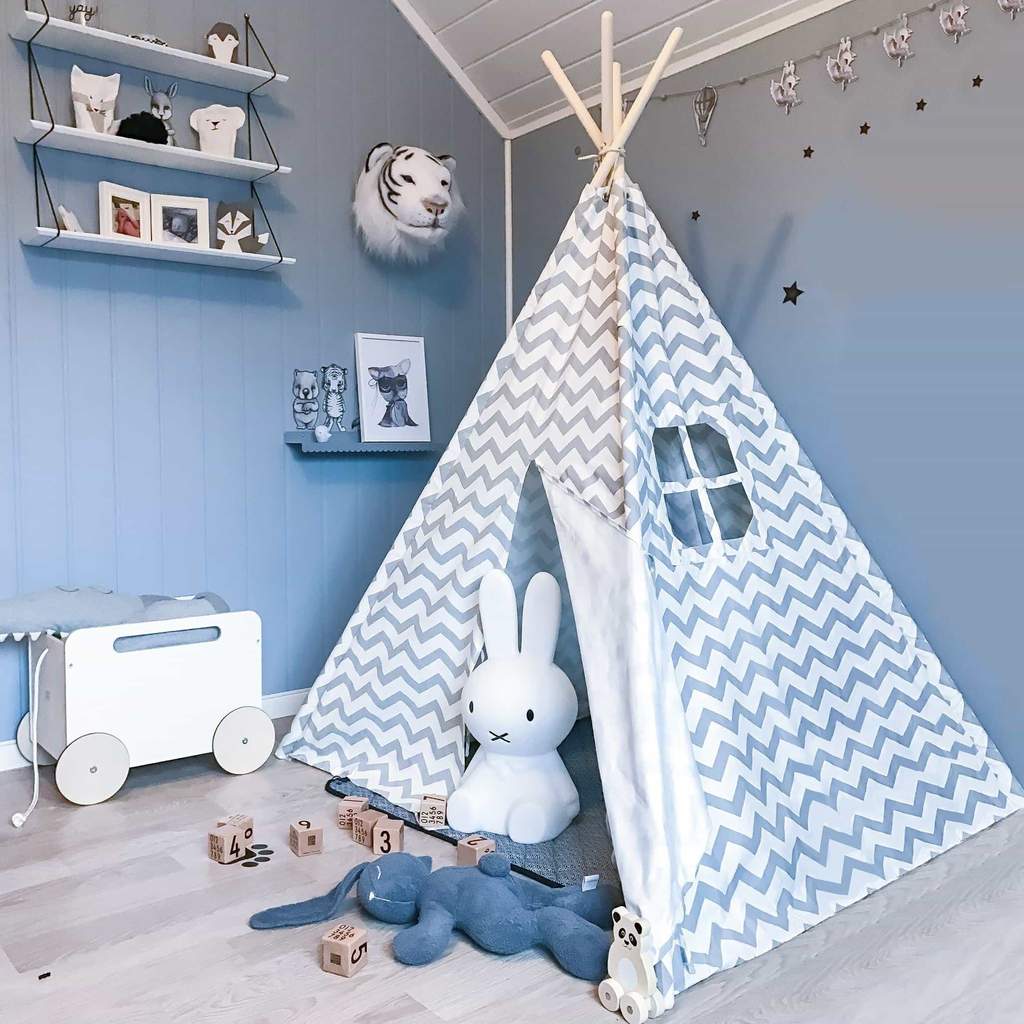 This teepee will create a comfortable nook for the twins (and parents, too). Children love to spend time in magical, handcrafted spots around the house because they provide a feeling of privacy and personal space (parents need them as well!). That's why tents and mini-houses are in high demand among the kids! This teepee can be placed both inside and outside the home and is perfect for twins.
Age: all
Price: $99.99
Features: 47 x 47 x 66 inches, sturdy pine wood poles, cotton fabric
Wooden Mini Golf Game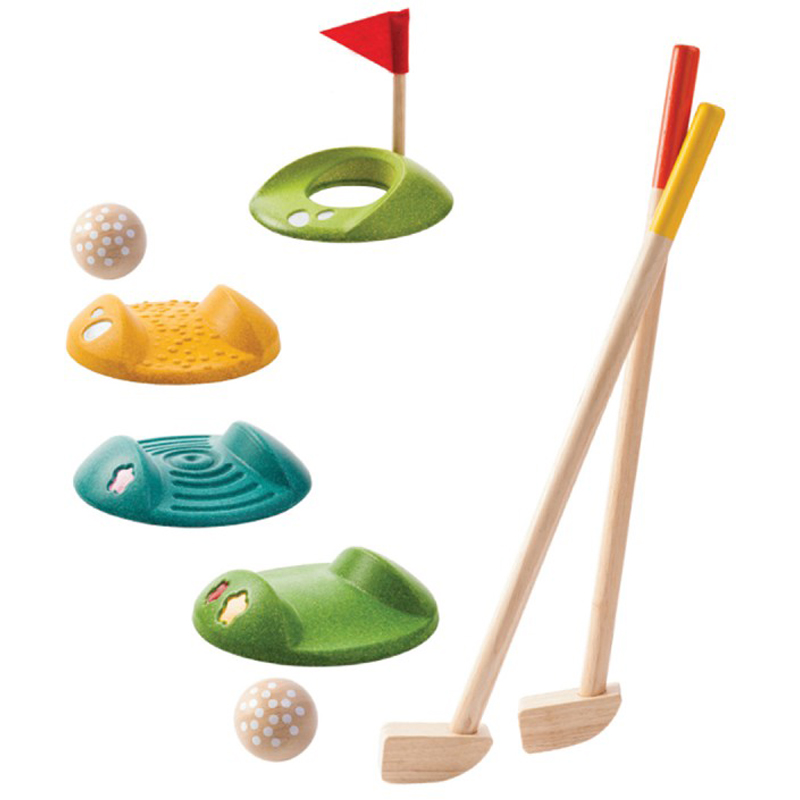 This gift works wonderfully for an outdoor space or a relatively large playroom. With this set, your children can learn the basics of mini golf, which develops motor skills. This game is kid-sized and easy to store in the included bag once a child is done with it for the day. One amazing feature of this gift is the sustainability aspect – pieces are made from sustainably harvested rubberwood trees that can no longer produce latex plus PlanWood which is surplus thermally-reprocessed sawdust chips. They're even constructed using E-Zero non-formaldehyde glue, and dyed with non-toxic water-based inks.
Age: 3+
Price: $40
Features: 47 x 47 x 66 inches; ISO 9001, ASTM, EN71, OHSAS 18002, SA 8000, and ISO 14001 certified; sustainably harvested rubberwood and PlanWood, recycled paper and soy-inked packaging, water-based dyes, made with solar energy
---
Gifts for newborn twins
This is actually the easiest bit because newborn twins don't get jealous or picky about gifts. So, they can literally be the same gift with variations, such as color or shape. Because newborn twins won't appreciate the gift to fullest extent, you can also give non-toy gifts to the parent/s, such as clothes or care items.
Milestone Baby Cards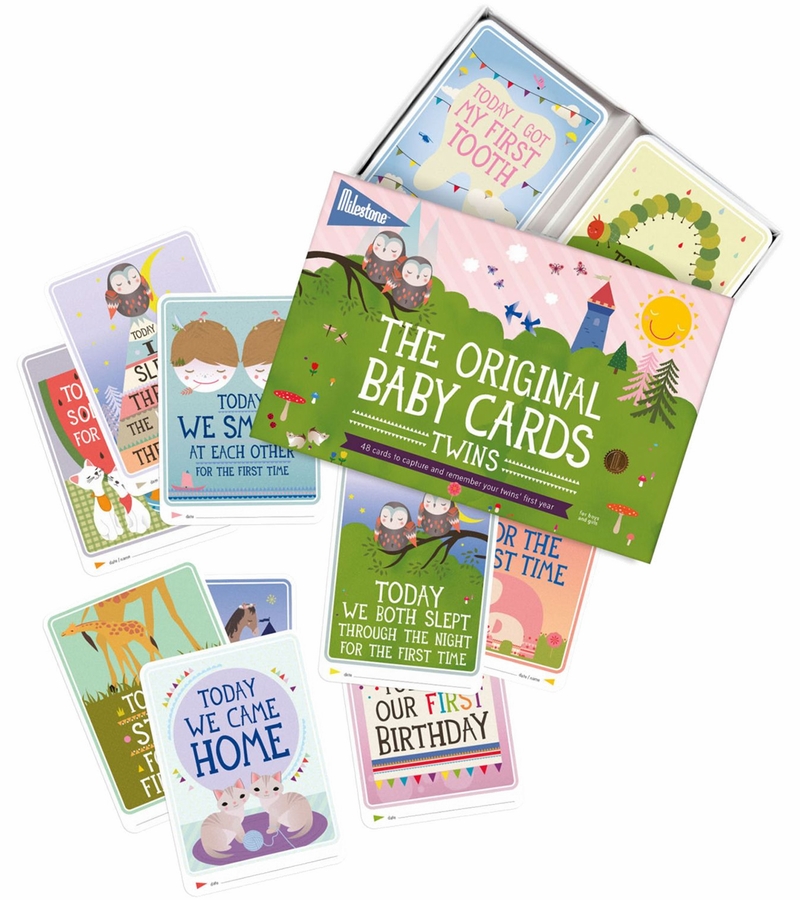 These photo cards for twins will mark every special milestone, like arriving home together, and capture specific ages: "Today we are xx months old." It's so important to catch these moments to always remember them. Then you or the family receiving the gift can collect a whole album with the sweet matching photographs. Such a touching gift that will make everyone's heart melt! So, can we categorize it as one of the most unique gifts for the twins' first birthday?
Age: 0+
Price: $24.00
Features: FSC paper and eco-friendly bio inks, printed in Belgium, contains 48 photocards in a gift box.
Car Seat Toys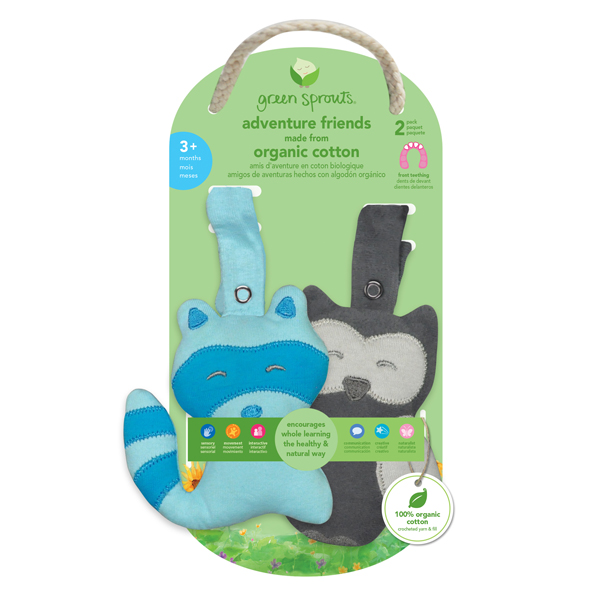 Gifts that are practical and cute at the same time are always at the top of parents' lists. This is the case with these car seat toys. The perfect gift for newborn twins, and also one gift for two to share! You can put these cute animals on a stroller or a car seat to keep children busy on the road and allow you to enjoy an adventure or a long walk. This gift is also sustainable — it's made with 100% organic cotton which is also safe to chew. These toys help stimulate motor an perception skills because they're colorful and soft!
Age: 3 months +
Price: $9.99 for 2 toys
Features: 100% organic cotton jersey and filling, colored with azo free dyes, attachable strap, crinkle sound
Cloud Wooden Grasping Toy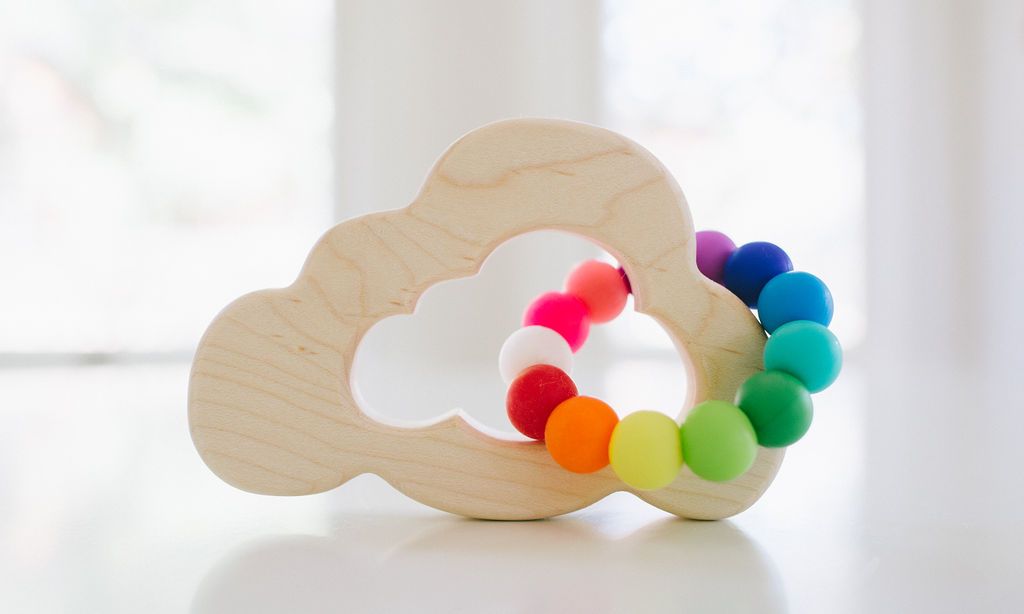 This wooden cloud is gorgeous and can also be personalized! You can add on a colorful silicone teething ring and pick from several bead color combinations! This is definitely useful for babies who learn about the world through teething and tongue-exploring. The cloud is made out of hard maple wood, non-splintering, and antibacterial. The personalization seems quite interesting! You can engrave a word and choose from a variety of teething beds. This toy will definitely develop creativity, help teething, and boost imagination! A perfect gift for newborn twins!
Age: not specified
Price: $14.99 for one
Features: maple wood silicone beds; toxic-free, BPA-free; SGS, LFGB, CCPSA, FDA approved; ASTM international certification, handmade in Iowa.
---
If your budget allows and you're willing to buy two separate gifts, this section is for you! Even though it may seem more complicated to find separate gifts for twins, in reality, it's much easier. For example, if the twins like a particular cartoon, you can give both of them a character from that cartoon. They can be the same or different. This pretty much applies to any gift. However, if they don't have a common interest, then buy based on their individual interests. The best practice here is asking the parents or each child individually (if they're old enough) about what they want to get. Then it'll truly be a spot-on gift.
Plush Friends Mia and Ella
Children establish early relationships with plushies or character toys. Give your twins two plush toys that can become their first friend or new friend among others. By giving two different toys, the twins can use their imagination and creativity to role play.
Age: all
Price: $34.99 for each
Features: 100% GOTS and OEKO-TEX certified organic cotton, shipped in recycled and recyclable packaging, hypoallergenic sustainable corn fiber filling
Sustainable Dump Truck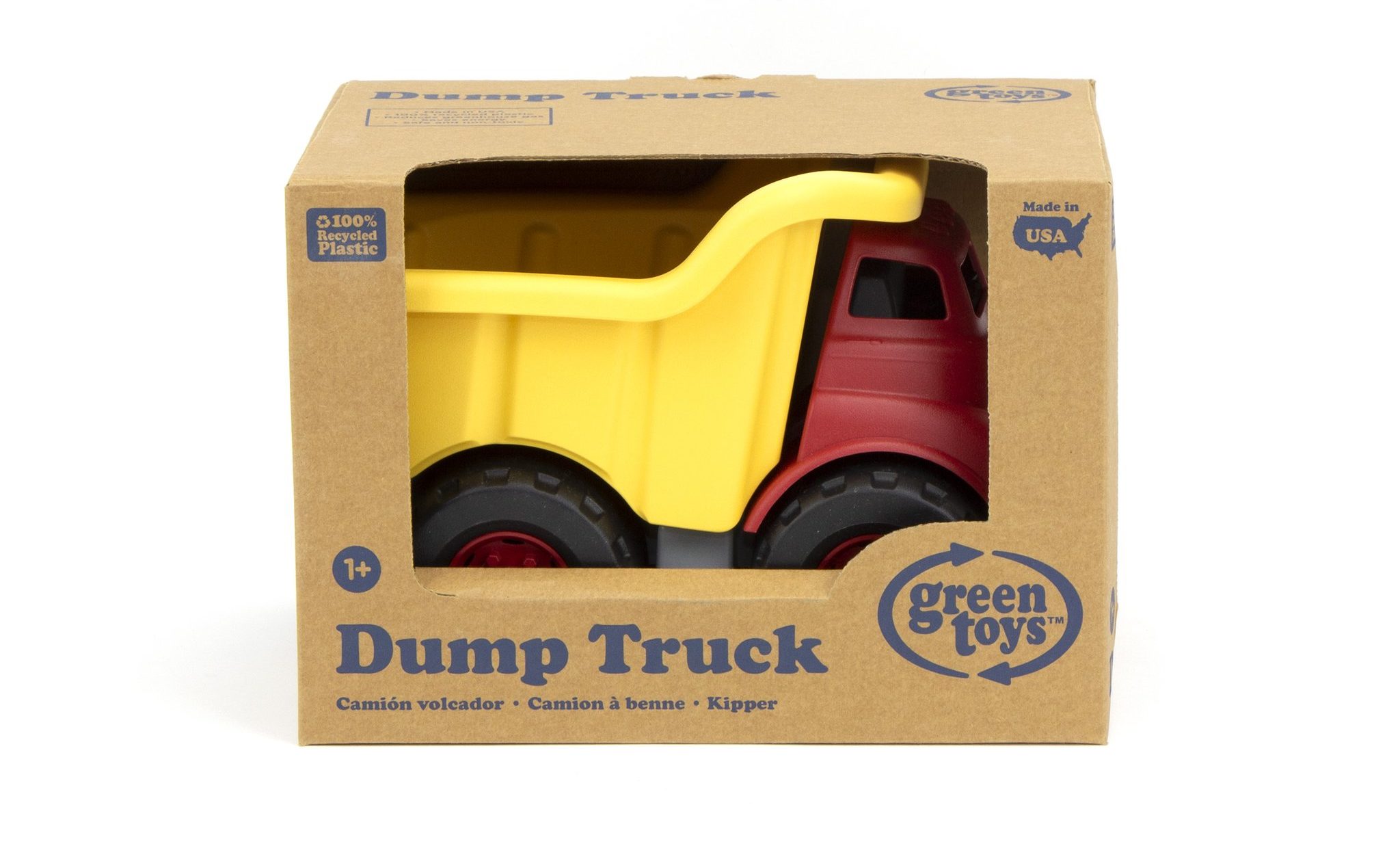 This present is perfect for the warm season when you can enjoy the sun on the beach or on the playground. The truck comes in different colors, making it a perfect gift for twin boys or girls! It's great for developing motor skills and boosts imagination. You may be surprised to find out what material it's made of. Any guesses? What about recycled plastic milk boxes? We were surprised to learn that it can be used to construct toys and is 100% safe. These dump trucks are manufactured in the USA, don't contain any BPA, phthalates or PVC, and are easy to clean.
Age: 1+
Price: $29.99 each
Features: 100% recycled plastic, FDA food standards, made in the USA
Personalized Storybook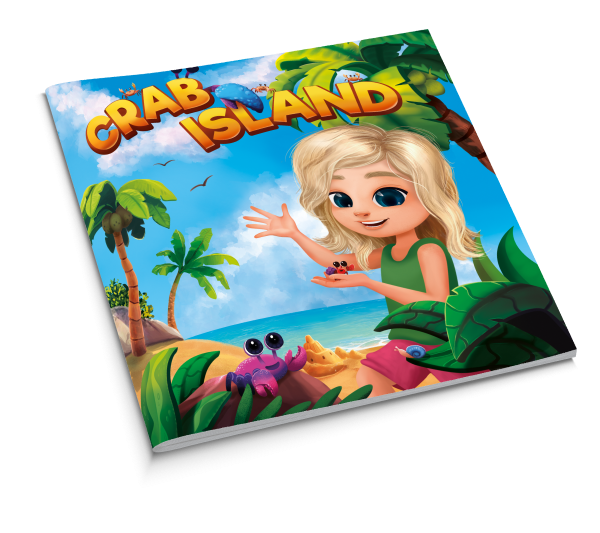 This is definitely one of the most unique gifts you could possibly give! You're probably asking yourself how this book is any more special than the previous gifts. Well, it's fully customized for your children! Kids love to imagine themselves as their favorite characters in books or cartoons. In LionStory storybooks, your kids are the main characters. It comes beautifully packaged, hand-illustrated, and has your child's name throughout the story. If you're wondering what the story is about, it teaches a child to care for the environment, help others, be responsible, and be brave enough to dare to live an adventurous life! You can preview the pages in Crab Island now!
Toy Story Characters
This one is an example of giving different character toys from a cartoon they both like, and is a great option. You can always directly ask who their favorite character is if you don't want to guess. Moreover, it's a great gift because children will use their imagination and creativity to use the characters in their own original stories.
As you can see, there are many toys available out there to satisfy any need. We hope that after our list of best gifts for twin babies and unique ideas for twins, finding one will be musch easier. Follow us on social media to be the first to get our toy and book lists!