🇦🇪🇸🇦🇰🇼🇴🇲🇯🇴🇧🇭🇶🇦
LionStory is thrilled to announce a creative writing contest for Middle Eastern authors and parents. Publishing your own story can be challenging! We would love to exchange our skills.
What we are looking for
You are an author/parent/parenting coach/child psychologist/caretaker based in one of these Middle Eastern countries: Bahrain, Jordan, Kuwait, Oman, Qatar, Saudi Arabia, or United Arab Emirates.

You are willing to write a story for 2-5 years old children.

The story will have a good moral that can be based on Middle Eastern or Muslim values: for example, empathy, kindness, friendships, relationships with parents. It can also be a story about Ramadan or special occasions. 

600-800 words in English and Arabic (2 versions).

Remember, the book will be

customizable

, so it should be applicable for both girls and boys.

There should be 1 main character, a child of 2-5 years old. There can be secondary and fictional characters (e.g. animals, spirits).
Prize
The winner of the contest will receive a monetary value of $1000 in their local currency;

The winner will have their storybook published on the name of LionStory and will be therefore customizable for any child on our website.
Terms and conditions
To enter, submit an original unpublished story written in English/Arabic with English translation between 600 and 800 words;

There is no limit to the number of entries you can submit;

There is no entry fee to submit a story;

There is no age/gender limit of the participant;

You should be located in one of these Middle Eastern countries: Bahrain, Jordan, Kuwait, Oman, Qatar, Saudi Arabia, or United Arab Emirates;

It should be an original unpublished piece;

Submission will be judged according to technical merit, originality, readability and values reflected in the book;

The winner grants LionStory books the rights to publish and sell the storybook under the name of LionStory books with no restrictions;

Submission of a written piece implies the participant's acceptance of the terms and conditions.
Submission Deadlines and Jury
Please submit your story no later than 15th of July.
Your work will be judged and selected by the LionStory Books team together with three judges: Eman Saeh, Heba Subeh-Hyder and Hend Saeed. We are looking for an original story that teaches a good moral to children of ages 2-5 and reflects Middle Eastern and/or Muslim values.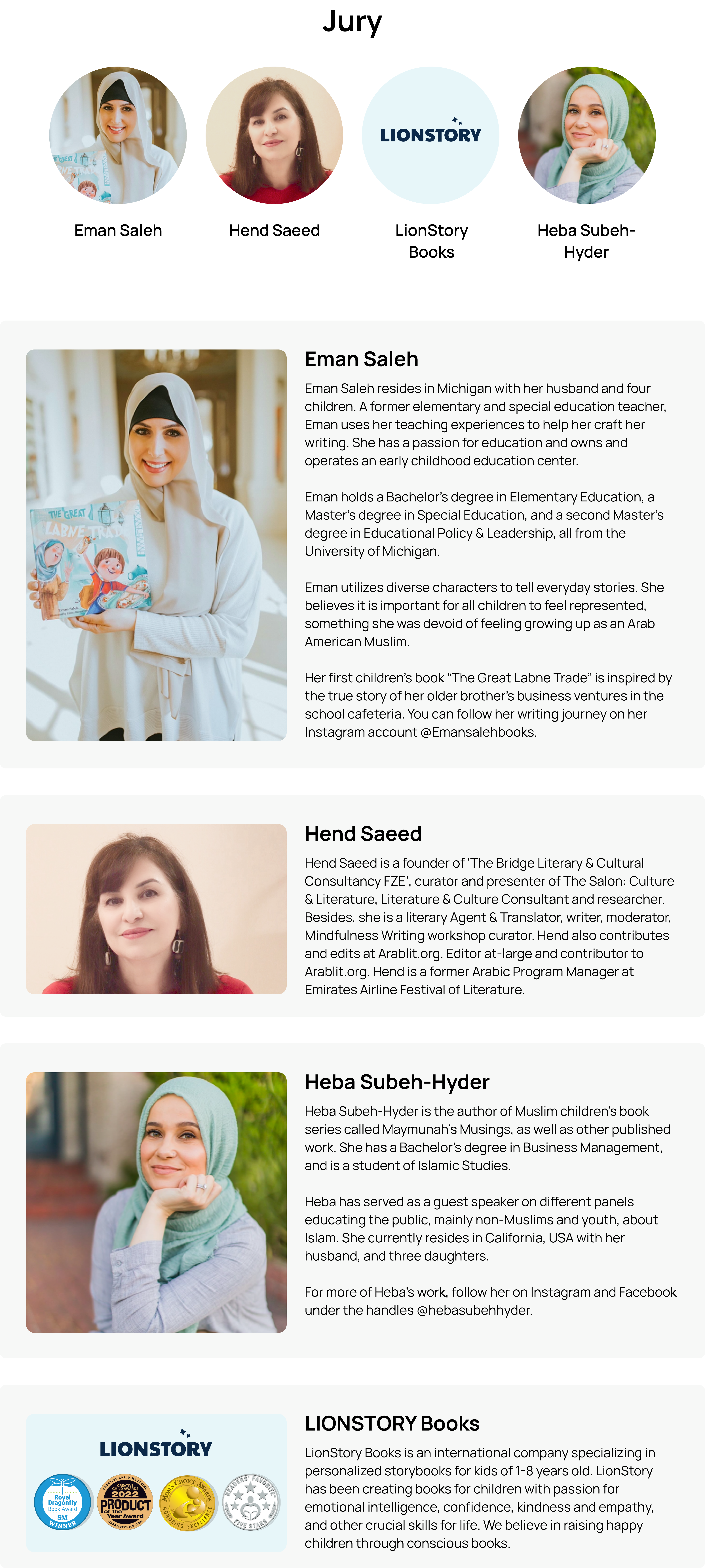 Submission
For any questions, please email us at help@lionstory.com. Good luck, writers! 
Sincerely,
LionStory Books team