Imagine a summer afternoon without any plans ahead and suddenly the children ask you what they say they want to do something fun. Does the scene ring a bell? If you like crafts, you are saved, because today we will teach you how to make birds you can make with socks this summer.
From Easter chocolate eggs we move on to a homemade activity that you can do with the children and that also serves to recycle those old cotton socks that you are always thinking of throwing away. How? Here you are one of the things to make with socks: handcrafted birds.
Don't be alarmed if you don't know how to make birds, we will solve that in a moment with this article where we show you the step by step to create your bird-shaped puppets that all twitchers will love!
Are you ready? Take note of what you will need to build this simple summer craft.
These are the materials:
A sock: if it is colored it will be more fun and the older the better, this way you give a new life to that garment that you were thinking of throwing in the recycling bin.
Duct tape.
A box of cereal.
Rule
Punch.
Pair of scissors.
Glue
Paints, watercolors, or markers.
Hot glue or needle and thread.
Craft eyes or cardboard to draw them.
Do you have everything ready on the table? Well, now you just have to follow this simple step by step for these socks for birds.
Instructions:
1. First you have to know how to make the beak.
Cut a piece from the front and side of the cereal box. Draw on the flat side of the cardboard. Repeat these steps to create a piece of cardboard identical to the previous one. Cut along the seam lines of the cardboard box. These cardboard pieces will be the sock bird's beak.
Place the pieces that will be the beak on a piece of cardboard. Position the straight ruler on the dotted line and with an awl mark the line without cutting it.
Bring the beak pieces together by bending them until both ends touch. Cut a strip of paper the same length as the beak. Put glue only on one side of the paper and stick it to the inside of the beak, so that the points meet.
Once the beak is dry, paint the pieces with yellow paint. Let it dry before continuing with that piece.
Cut a small piece of duct tape and stick it to the inside of the beak pieces to hold them together.
2. Now it's time for the sock.
Cut an old sock, but be careful and make the cut away from the toe area, because that part is not going to be used and we will use the rest to create the body of the bird.
Fold the end of the sock where you cut it inward. Put hot glue on the outside of the beak and insert it where you had folded the sock. Press so that it sticks correctly. If you don't have hot glue, you can do this part with a needle and thread.
3. Decoration.
Attach the plastic eyes with hot glue or glue. Draw two small holes with a felt-tip pen on the bird's beak. If you don't have googly eyes, you can always draw them on construction paper and then glue them to the sock.
This is the part where children can let their imagination run wild.
In case this option is somewhat complicated for you, we propose another alternative to create birds with socks very easily and where you can be very creative.
Materials:
Sock
Scraps of old fabric, tissues, or different types of padding such as cotton
A ribbon of cloth or string
Buttons or materials to create the features of the bird.
Glue
needle and thread
Instructions:
1. Take a sock and fill it with scraps of old fabric or any other type of stuffing. Sew the end so that it is well attached.
2. Tie a ribbon to separate the head from the body. You should tie the ribbon so that the head is a quarter of the size of the entire body. You can sew the ribbon in place or leave it so it can be removed.
3. Add the ears of your animal. Cut them out with scraps of fabric. Sew or glue them onto the animal's head.
4. Add the facial features or details of your animal. Cut them out of another sock or scraps of fabric. Sew them or glue them to your animal.
Now that you know how to make birds out of socks, you can consider building several puppets and creating a cardboard theater for children to imagine their adventures and put on a show at home.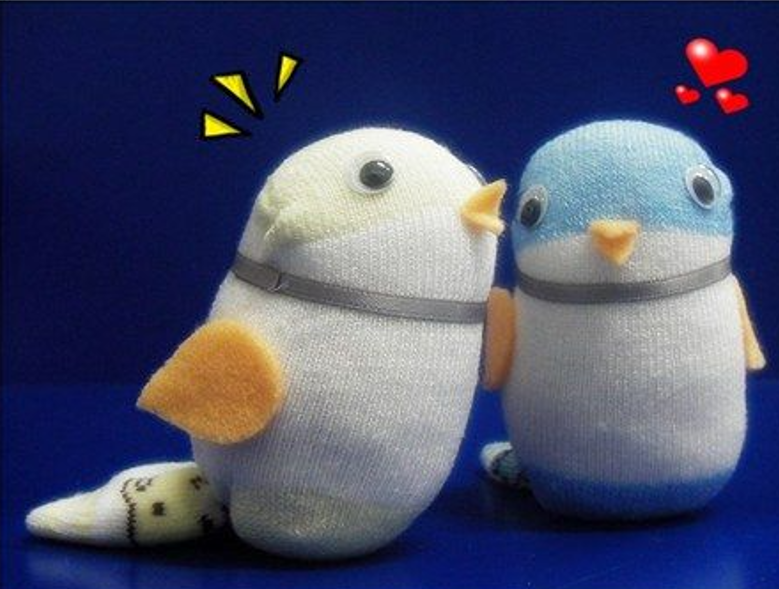 Image source: https://cpykami.ru/igrushka-vyvernushka-iz-noska/
https://www.pinterest.ru/pin/576108977343725890/
If you liked this proposal, do not miss our blog, where we have many ideas just as fun as this one.
We're experts at creating personalized books for kids, so if you're looking for a very special gift, explore our bookshelf of featured stories.